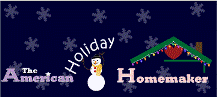 The American Homemaker sponsors
Holiday Show & Share
:
"The holidays are quickly coming upon us. Do you have a favorite holiday tradition? A favorite holiday recipe? A great holiday party idea? A holiday decoration you'd love to show off? How about a favorite holiday picture of your family? Let's show and share our favorites. Each Tuesday from November 4th until December 23rd blog about something you love about the holidays and add your link to Mr. Linky."
Want to be reminded of the "Reason for the Season" every time you walk into a room in your home? Why not place a nativity item in each room. For this post I'll share come photos from previous Christmases. They show nativities on display in several rooms at Oak Rise Cottage.
In the entry hall is a large nativity set given to me as a gift from my youngest sister.
On the landing is a display of Department 56 lighted "little Town of Bethlehem".
In the living room the mantel displays a pastel stained glass nativity set.
On a lamp table, also in the living room, is another nativity set.
The angel tree in the living room has a ceramic nativity underneath.
In the kitchen a tiny Hallmark nativity rests in a holiday tray, while on the plate stand another is in the top dish.
In the dining room the tree has nativity figure ornaments.
In the hallway an crewel embroidery picture adorns a door.
In the guest room a skirted table holds a painted tin nativity set.
On the bed another nativity is made of embroidered plastic canvas.
This one wall in the guest bathroom displays three nativity plates.
In the bedroom on dresser, is a tabletop tree and creche underneath.
Of course, as a collector, I have multiple nativity sets all around. But you might place a nativity plate in one room, a small one-piece creche in another, one under a tree, a framed card on a table, and so on...there are many ways of incorporating a nativity in your holiday decor, as a way to "keep Christ in CHRISTmas."